yesterday, i created a post about how i found out how to see swordbattle.io's code, i showed here: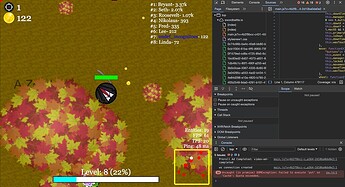 there are many ways to do this, but the way i found works on more cases/computers/browsers than what the options the people commented. and on yesterday's post ("I found swordbattle.io's code"), I said to comment and like the post if you wanted me to make a post on how to do it.
and i came back to it today, and i saw that some people wanted me to make a tutorial…
so here it is. the tutorial. (only for computer btw, srry)
first you're gonna wanna go to swordbattle.io - either in-game or on the menu screen depending on which one you want to see the code on. i'll show this using the menu screen:
i'm on an incognito tab to show that it works on one (also cuz my name is incognitoes lol).
anyway, you are going to click the three dots on the upper right corner of the screen (shows a yellow update for me since i'm incognito). You'll see this drop-down menu:
once you're here just click on more tools - you should see this pop up next to the more tools button:
now just press developer tools and you're good to go! i hope this helped :)
psst - i'm almost tl3, just 2 more days